A long time ago, right around when I started doing tutorials, I started a Sailor Moon series. When I was growing up, me and my friend would always watch the show and sing the theme song, and hell, even act like them sometimes. So of course I wanna restart it now that my makeup skills have greatly increased since then. I leave my old videos up so that people can see my skills increase video after video. Also today is a somewhat special day. Today (April 5th) marks my
one year anniversary of youtube tutorials!
Believe me, there'll be many many more.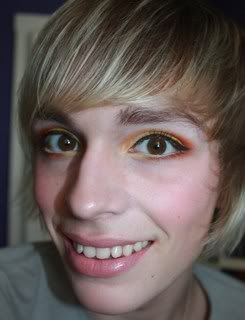 Products Used:
Eyes-
Urban Decay Primer Potion
MAC's Chrome Yellow
MAC's Orange
MAC's Gesso
Beautylicious Cosmetics - Sorbet and Electra Kute
Urban Decay 24/7 Glide On Pencil - Yeyo
Rimmel Eye Kohl - Pure White
Maybelline Gel Liner
MAC's Zoom Lash Mascara
Cheeks-
Coastal Scents blush palette - Matte natural pink blush
Lips-
Rimmel Lip Liner - Natural
MAC's Viva Glam Gaga
ELF's Luscious Liquid Lipstick - Bark